Events & Jobs
ALL JOB LISTINGS WILL BE EMAILED TO MEMBERS ONLY.
DISC model facilitator certification course.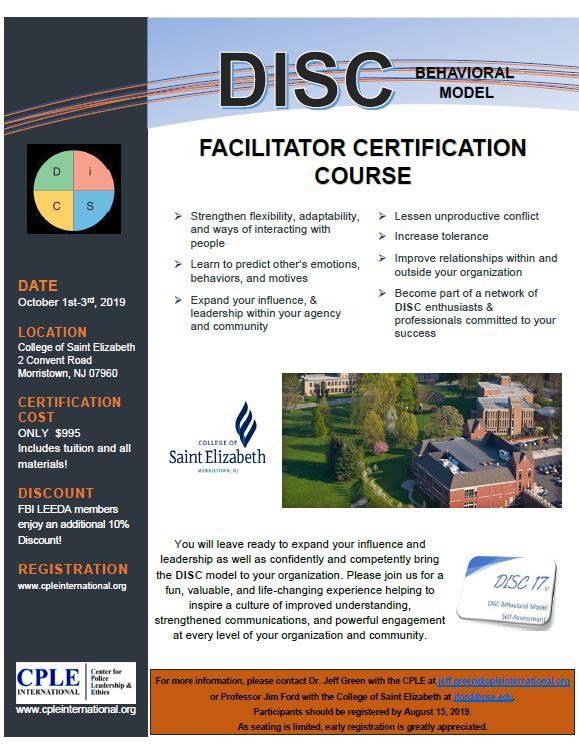 On February 12, 2017 the association sponsored a recruitment effort by the New Jersey State Police Recruitment Unit. The NJSP are currently accepting on line applications for the position of State trooper. Please notify all those that may be interested in this law enforcement career position. The event held at the Rutgers Community Christian Church Somerset NJ went exceptional well.
Photos of the event:
On December 5, 2016 members of the NJAALEOA attended the graduation of college aged young adults from the Law Enforcement Career Development Workshop which was held within the Morris County Public Safety The program Director Morris County Undersheriff William Schievella . Deputy program coordinator , educator Suzanne Ceravelo along with a host of law enforcement personnel, educators and others gave the several dozen young adults a great insight into law enforcement as they strive to enter the field.
Members of the association along with others from the law enforcement field held mock interviews with the students before the graduation took place. There is no doubt this program which is free to those that attend is one of the best of its kind in the state of New Jersey.
S
tudents, faculty, law enforcement personnel and other advisors.

photo left: R. May, NJAALEOA, 2nd VP/Edison Police Officer N. Patel, PAPD Sgt. L, Irving, Program Director & Undersheriff W. Schievella and Chief C. Chimento, Butler PD.

NJAALEOA 2nd VP, Edison Police Officer Neel Patel and President Emeritus
R. May conduct a mock interview with a student attending the program.

Student receiving her graduation certificate from Undersheriff W. Schievella.

Student receiving her graduation certificate from Undersheriff W. Schievella. The student is the sister who took the course previously and is now an Investigator. The investigator is a member of the NJAALEOA.

NJAALEOA members who attended and participated with the mock interviews for the graduating students US Air Marshal G. Parker, 2nd VP N. Patel and President Emeritus R. May